Massive, a game of four forces
"Based on particle physics, approved by the physicists"
What is the universe about? What is it made of? How does it work?... Questions such as these have puzzled mankind since the beginnings of human thought. Indeed, one of the earliest attempts at an explanation dates back to the ancient Greek pre-Socratic philosopher Democritus who put forward the atomic theory of the universe. He was quite in advance of his time, although it has been discovered since that the unbreakable structure of the atom he spoke of can in fact be broken down even further. Since then, the top thinkers of our civilisation have kept pushing the barriers forward, finding answers and happening on more questions the further they go. This is the beauty and complexity of particle physics.
Today, particle physics is reserved to the elite. It is one of the hardest sciences to understand. Sadly, little is done to make it more achievable and the knowledge of the masses is lagging behind the current understanding of the topic. Moreover, most people get lost in the alien-like scribbles and the abstract math. And every textbook risks losing the reader after the first few pages. So what can be done to counter this problem and bridge the gap? How can we get people to enjoy particle physics, understand the basis of it and not fear the big words anymore?
This is what drove me to create Massive, a game of four forces. Massive is a particle physics science-based card game. It gives the players knowledge of the most fundamental aspects of our universe: the particles therein, and how they interact with one another. By playing the game, one can finally experiment with what happens at the subatomic scale and understand terms such as quarks, leptons, fermions and bosons.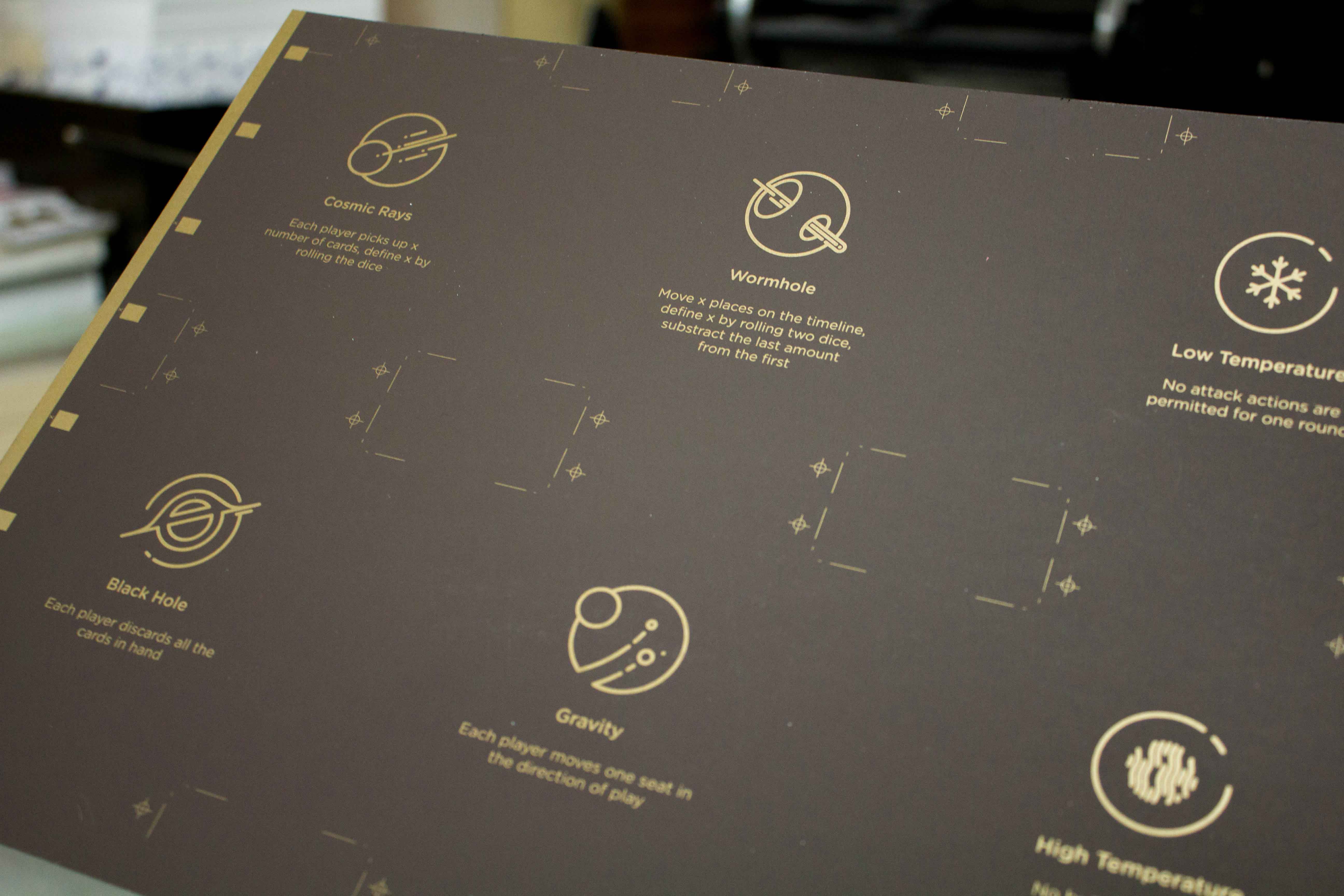 Massive originated thanks to the collaboration between the Ideasquare at CERN (the European Center for Nuclear Research) and HEAD (the Geneva University of Art and Design) in 2014. Thanks to this ongoing collaboration, the rules of the game stay true to the science of particle physics and the most successful model to date: the standard model. Currently still in development, Massive has been presented and tested in several conferences and exhibitions such as Lift in Geneva, the Salone del Mobile in Milan or GSGS17 in Neuchâtel.
With the amazing feedback received so far, Massive is hoping to start a crowdfunding campaign and to make the dream a reality. The first pack of Massive concentrates on ordinary matter. However, this represents only four percent of the matter in our universe. With further development, I would like to explore more topics with exotic expansion packs like the antimatter pack, the dark matter pack or the supersymmetry pack for example.
In the meantime, don't hesitate to visit the facebook page!
Credits
Conception

Patrick Donaldson

Contributors

Sarah Bourquin
Alex Brown
Hugo Day
Leonardo Gerritse
Mélissa Pisler
Camille Rattoni

Awards

Best student contribution
Gamification & Serious Game Symposium (GSGS)

Exhibitions & festivals

Talk and Demonstration
Gamification & Serious Game Symposium (GSGS)

Salone Ludico
Salone Internazionale del Mobile di Milano

Demonstration
Grafik 16

HEAD Showcase
Geneva Lift Conference

Photos

Michel Giesbrecht
Patrick Donaldson
Dylan Perrenoud